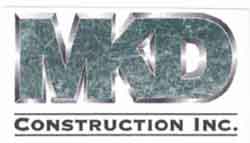 Is seeking qualified DBEs, MBEs, WBEs
Outreach Coordinator
Michael Grock
Telephone
(775) 246-1900
Fax
(775) 246-1986
Address
20 Stokes Dr
Mound House, NV 89706
Project Name
2022 BIJOU 2/3 WATERLINE REPLACEMENT PROJECT
Bid/Contract #
N/A
Awarding Agency
South Tahoe Public Utility District
Project Location
South Lake Tahoe, El Dorado County, CA
Bid Date
02/22/2022 at 02:00
Project Details
MKD Construction is seeking MBE, WBE AND DBE subcontractors and suppliers for the 2022 Bijou 2/3 Waterline Replacement Project in South Lake Tahoe. The work to be performed consists of the installation of approximately 4,500 linear feet of 8-inch C900 water main and associated water services, fire hydrants, mainline connections and site restoration including landscaping, paving and other related work.

We are soliciting quotes from MBE, WBE & DBE SUBCONTRACTORS & SUPPLIERS for the following: Project Scheduling; Temporary Erosion Control; All Trucking of Materials; Asphalt Paving; Traffic Control; and Non Excavatable Rock Removal.


Plans and Specs may be obtained for free through download of the South Tahoe Public Utility District's Vendor Portal. For assistance in downloading these documents or registering as a vendor contact Star Glaze, Contracts Administrator at (530) 543-6205. You may also contact Sierra Contractor's Source, (775) 329-7222 or call MKD Construction at
(775) 246-1900.
MKD Construction is happy to assist interested DBEs in obtaining bonding, lines of credit or insurance, and any technical assistance of information related to or obtaining plans, specifications and requirements for the work which is provided to DBEs. MKD Construction will also assist interested DBEs in obtaining necessary equipment, supplies, materials or related assistance or services, excluding supplies and equipment the DBE subcontractor purchases or leases from us. We are a union contractor and equal opportunity employer.
How to get in touch
Outreach Coordinator
Michael Grock
Telephone
(775) 246-1900
Fax
(775) 246-1986
Address
20 Stokes Dr
Mound House, NV 89706