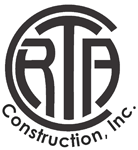 Is seeking qualified DBEs
Outreach Coordinator
Darren Trawick
Project Estimator
Darren Trawick
Telephone
(530) 223-1100 Ext. 18
Fax
(530) 223-6320
Address
9614 Tanqueray Court
Redding, CA 96003
Project Name
Wastewater Treatment Plant Improvement Project
Bid/Contract #
306.39
Awarding Agency
Burney Water District
Project Location
Burney, Shasta County, CA
Bid Date
01/11/2022 at 02:00
Project Details
RTA Construction is soliciting proposals and quotes from all Disadvantaged Business Enterprises (DBE)
for the Burney Water District Wastewater Treatment Plant Improvement Project in Burney, CA.
Bids for the construction of the Wastewater Treatment Plant Improvement Project will be received by PACE Engineering, Inc. on behalf of Burney Water District at the office of 5155 Venture Parkway, Redding, CA 96002 until 2:00 p.m. local time on January 11, 2022. The project will consist of constructing a new secondary clarifier, replacing sludge lagoon HDPE liner, oxidation ditch aerators, wastewater pumps, control building HVAC, all electrical and controls with a new permanent generator, and other miscellaneous piping and mechanical improvements. If additive alternates are awarded, conversion of the existing clarifier to an aerobic digester, complete with blower building, aeration, supernatant pumping, and mechanical improvements, will be included. Engineer's Construction Cost Estimate is $4,600,000 to $5,400,000. A non-mandatory, pre-bid job site visit will take place December 7, 2021, starting at 10:00 a.m. at the Burney Wastewater Treatment Plant located at 21111 Black Ranch Road, Burney, CA 96013.
RTA Construction, Inc. is requesting quotes from DBEs for all disciplines of work involved with this project. RTA Construction, Inc. is offering the following items of work to DBEs including but not limited to: excavation, backfill, rebar, HDPE liner installation, mechanical, electrical, underground and above ground piping, building construction. We will work with interested DBEs to create custom scopes of work/supply to meet their particular needs. We will encourage a consortium of DBEs when any particular item(s) of interest are too large for one DBE firm to handle individually. We will work with interested DBEs to divide total requirements into economically feasible, smaller tasks or quantities to permit maximum DBE participation.
All Interested DBEs are encouraged to contact RTA Construction, Inc. to participate in this contract. Project plans and specifications can be viewed at RTA Construction, Inc or obtained from CIPList.com. We are an equal opportunity employer, RTA Construction, Inc. If DBEs need assistance in bidding, acquiring loans or insurance, etc. please reach out to us for assistance. Please contact us at RTA Construction Inc., 9614 Tanqueray Court, Redding, CA 96003, Phone: 530-223-1100,
Fax 530-223-6320.


We are an equal opportunity employer. The plans and specs are available for your review at our office. Bonds will not be required from qualified subcontractors.
How to get in touch
Outreach Coordinator
Darren Trawick
Project Estimator
Darren Trawick
Telephone
(530) 223-1100 Ext. 18
Fax
(530) 223-6320
Address
9614 Tanqueray Court
Redding, CA 96003