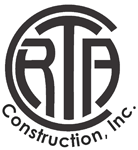 Is seeking qualified DBEs
Outreach Coordinator
Darren Trawick
Project Estimator
Darren Trawick
Telephone
(530) 223-1100 Ext. 18
Fax
(530) 223-6320
Address
9614 Tanqueray Court
Redding, CA 96003
Project Name
Churn Creek and Maraglia Safety Improvements
Bid/Contract #
2622
Awarding Agency
City of Redding
Project Location
Redding , Shasta County, CA
Bid Date
08/04/2021 at 0:300
Project Details
RTA Construction is soliciting proposals and quotes from all Disadvantaged Business Enterprises (DBE) for the Churn Creek and Maraglia Safety Improvements project.

In accordance with the Municipal Code of the City of Redding, sealed bids will be received at the office of the City Clerk, 777 Cypress Avenue, Redding, CA 96001, until 3 p.m., August 4, 2021. Bids will be publicly opened and read at 4 p.m. for the performing of the work as follows: This project includes completion of bike and pedestrian improvements on Churn Creek Road between Hartnell Avenue and East Cypress Avenue and Maraglia Street between Hilltop Drive and Churn Creek Road. The improvements include completing sidewalk gaps, miscellaneous storm drain improvements, installing ADA compliant curb ramps, AC overlay & micro surfacing, enhanced crossings, and installation of safety lighting as detailed on the plans and in these specifications. The Engineer's Estimate is $1,200,000. There are 120 working days. The DBE contract goal is 18 percent.

RTA Construction, Inc. is requesting quotes from Disadvantaged Business Enterprises for all work involved with this project including but not limited to SWPPP, Traffic Control, Construction Area Signs, Survey, Excavation, Concrete Demolition, Aggregate Materials, Asphalt Concrete Installation, Concrete Curb Gutter Sidewalk Construction, Concrete Driveway Construction, Traffic Stripe, Pavement Markings, Sign Relocation, Pre-Cast Storm Drain Features, Beacon System, Street Lights, Electrical, Trucking.

Interested DBE subcontractors and vendors are encouraged to contact us at RTA Construction Inc., 9614 Tanqueray Court, Redding, CA 96003, Phone: 530-223-1100, Fax 530-223-6320.


We are an equal opportunity employer. The plans and specs are available for your review at our office. Bonds will not be required from qualified subcontractors.
How to get in touch
Outreach Coordinator
Darren Trawick
Project Estimator
Darren Trawick
Telephone
(530) 223-1100 Ext. 18
Fax
(530) 223-6320
Address
9614 Tanqueray Court
Redding, CA 96003