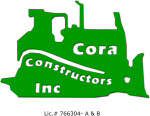 Is seeking qualified DBEs
Outreach Coordinator
Lynne Cazeault
Project Estimator
Nikolai Samarin nikolai@coraconstructors.com
Telephone
(760) 674-1536
Fax
(760) 674-3202
Address
75140 St Charles Place #A Suite A
Palm Desert, CA 92211
Project Name
Wastewater Treatment Plant Rehabilitation
Bid/Contract #
1246.001E
Awarding Agency
Borrego Water District
Project Location
Borrego Springs, San Diego County, CA
Bid Date
03/16/2021 at 02:00
Project Details
We are seeking quotes from DBE suppliers and subcontractors for the following Demolition, Mechanical, Pipe Suppliers, Rebar Suppliers, Concrete subcontractors and suppliers, Hoist/Crane subcontractors, Painting/Coating/Sandblasting subcontractors.

This project consists of the replacement of the grit screw classifier unit, air lift blower system, piping and valves, cleaning and coating of the interior concrete walls including repair of the damaged areas of the headworks facility concrete walls. the rehabilitation for Clarifier No. 2 includes sandblasting and re-coating of the interior steel components. The Sludge Station rehabilitation includes the installation of an additional air blower system as well as air piping and valves.


We are an equal opportunity employer. The plans and specs are available for your review at our office or they can be emailed. Contact Nikolai@coraconstructors.com. Bonds may be required from qualified subcontractors.
How to get in touch
Outreach Coordinator
Lynne Cazeault
Project Estimator
Nikolai Samarin nikolai@coraconstructors.com
Telephone
(760) 674-1536
Fax
(760) 674-3202
Address
75140 St Charles Place #A Suite A
Palm Desert, CA 92211