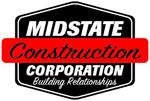 Is seeking qualified DBEs, MBEs, WBEs, DVBEs, SBEs, Section 3
Outreach Coordinator
Carly Rodriguez
Project Estimator
Pat Draeger
Telephone
(707) 762-3200
Fax
(707) 762-0700
Address
1180 Holm Road
Sonoma, CA 95476
Project Name
Avance Apartments
Bid/Contract #
21001
Awarding Agency
MidPen Housing Corporation
Project Location
Livermore , Alameda County, CA
Bid Date
11/20/2020 at 02:00
Project Details
Scope of Work: Including but not limited to; the new construction of six apartment buildings and a multipurpose building, within the 'scope of work' area, and associated site work for utilities and accessibility improvements. In addition, rework of existing building to include structural reinforcement in basement, replacement of furnace, water heater, PG&E meter, roof tile, relocation of sump pump, and replacement of non-original 2nd story window. Demo, Concrete, Masonry, Metals, Rough & Finish Carpentry, Thermal & Moisture Protection, Openings, Finishes, Casework & Countertops, Fire Suppression, Plumbing, HVAC, Electrical, Communications, Safety & Security, Earthwork, Utilities.

This project is subject to State and Federal Prevailing Wages, the higher of the two.

All Local Business Enterprise(LBE)/Small Local Business Enterprise(SLBE)/Women Business Enterprise(WBE)/Minority Business Enterprise(MBE)/Section 3 subcontractors are encouraged to bid.

This project is subject to Measure A1 labor and compliance requirements. A copy of the Policies and Procedures Manual for Measure A1 Labor and Contract Compliance Project Compliance Program for Affordable Housing Rental Development projects can be found in the Labor Compliance folder within the Plan Room in the Smartbid link provided below.

We are an equal opportunity employer. The plans and specs are available for your review at our office and online at: https://securecc.smartinsight.co/#/PublicBidProject/544298

Bids may be faxed or emailed in PDF format to: bidroom@midstateconstruction.com.

For questions please contact:
Pat Draeger
707-559-2314
patd@midstateconstruction.com
How to get in touch
Outreach Coordinator
Carly Rodriguez
Project Estimator
Pat Draeger
Telephone
(707) 762-3200
Fax
(707) 762-0700
Address
1180 Holm Road
Sonoma, CA 95476