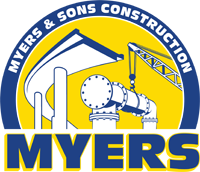 Is seeking qualified DBEs
Outreach Coordinator
Genesis Wester
Project Estimator
Bryan Evans
Telephone
(916) 283-9950
Fax
(916) 614-9520
Address
4600 Northgate Blvd, Suite 100
Sacramento, CA 95834
Project Name
Replacement of 7.5 MG Reservoir & Water Improvements
Bid/Contract #
9182
Awarding Agency
City of Upland
Project Location
Upland, San Bernardino County, CA
Bid Date
10/22/2020 at 02:00
Project Details
This is water improvement project with the typical items of work associated. Myers & Sons Construction, LLC is requesting quotes from all qualified subcontractors, trucking firms and suppliers including certified DBE firms for any part of the following types of work, including but not limited to:

Traffic Pedestrian Control, Furnish, Install, Maintain and Remove Identification Signs, Construction Surveying, SWPPP, Trench Shoring, Sheeting and Bracing, Placement of Structural Fill, Demo, Etc.

100% performance and payment bonds may be required for the full amount of the subcontract price. Subcontractors must possess a valid contractor's license, DIR registration number, and current insurance meeting Myers & Sons Construction's requirements. Subcontractors will be required to sign the standard Myers & Sons Construction, LLC Subcontract Agreement. Quotations must be valid for one hundred and twenty (120) days after the specified Contract Award Date by the Owner. Plans and Specifications are available for viewing at our Sacramento office, please contact (916) 283-9950 or estimating@myers-sons.com. Plans and specs can also be view through https://www.uplandca.gov/projects-bidding.
Please call if you need assistance in obtaining bonding, insurance, equipment, materials and/or supplies or visit our website at www.myers-sons.com for more information. Myers & Sons Construction, LLC will work cooperatively with all qualified firms seeking work on this project. Myers & Sons Construction is signatory to the Laborers, Carpenters, Cement Masons and Operating Engineers. Myers & Sons Construction, LLC is an equal opportunity employer.

How to get in touch
Outreach Coordinator
Genesis Wester
Project Estimator
Bryan Evans
Telephone
(916) 283-9950
Fax
(916) 614-9520
Address
4600 Northgate Blvd, Suite 100
Sacramento, CA 95834