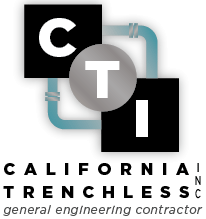 Is seeking qualified DBEs, MBEs, WBEs, DVBEs, SBEs, San Francisco LBEs
Outreach Coordinator
Raquel Ramirez
Project Estimator
Mike Jardin
Telephone
(510) 782-5335
Fax
(510) 266-1543
Address
2315 Dunn Rd.
Hayward, CA 94545
Project Name
SANITARY SEWER REHABILITATION PROJECT, OUTER HARBOR, BERTHS 20-24, OAKLAND, CALIFORNIA
Bid/Contract #
2020-02-M1
Awarding Agency
The CITY OF OAKLAND, BOARD OF PORT COMMISSIONERS
Project Location
OAKLAND, ALAMEDA County, CA
Bid Date
10/05/2020 at 12:00
Project Details
California Trenchless, Inc. is seeking for qualified DBEs & WBEs Subcontractors and Suppliers for the SANITARY SEWER REHABILITATION PROJECT, OUTER HARBOR, BERTHS 20-24, in the City of OAKLAND, CALIFORNIA . We are soliciting quotes for the following:

Water pollution Control, Construction Site Management, Street Sweeping, Temporary Concrete Washout(Portable), Trucker (Import / Off-Haul / Dumps), Concrete, Pipe Supply, Aggregates, Dewatering, Erosion Control, Sweeping, and Fiber Roll.
We are an equal opportunity employer. The plans and specs are available for your review at our office. Bonds will not be required from qualified subcontractors.
How to get in touch
Outreach Coordinator
Raquel Ramirez
Project Estimator
Mike Jardin
Telephone
(510) 782-5335
Fax
(510) 266-1543
Address
2315 Dunn Rd.
Hayward, CA 94545