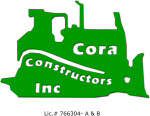 Is seeking qualified DBEs
Outreach Coordinator
Lynne Cazeault
Project Estimator
Nikolai Samarin
Telephone
(760) 674-1536
Fax
(760) 674-8648
Address
75140 St Charles Place #A Suite A
Palm Desert, CA 92211
Project Name
CHINO II WELL FIELD EQUIPPING RAW WATER WELL NO II-12
Bid/Contract #
CDA EXP3-20-06
Awarding Agency
CHINO BASIN DESALTER AUTHORITY
Project Location
ONTARIO, SAN BERNARDINO County, CA
Bid Date
08/17/2020 at 1:00
Project Details
We are seeking quotes for:

Wrought Iron Fencing, CMU Perimeter Walls and CMU Building, Electrical, Rebar, Grading, Batten Seam Roofing, Doors and Hardware, Mechanical Piping and Appurtenances, HVAC, C-57 Well Subcontractors, Specialty Building Components ie skylights, vents, louvers.
We are an equal opportunity employer. The plans and specifications are available thru our drop box which can be emailed to your company upon request. Bonds may be required from qualified subcontractors. This project is a prevailing wage project and in order to bid as a subcontractor your company must be registered with the Department of Industrial Relations. If you have any questions please contact Nikolai Samarin - Estimating 760-636-1840 or email at nikolai@coraconstructors.com.




How to get in touch
Outreach Coordinator
Lynne Cazeault
Project Estimator
Nikolai Samarin
Telephone
(760) 674-1536
Fax
(760) 674-8648
Address
75140 St Charles Place #A Suite A
Palm Desert, CA 92211