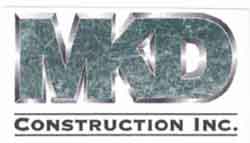 Is seeking qualified DBEs
Outreach Coordinator
MICHAEL GROCK
Project Estimator
Dee Westmoreland
Telephone
(775) 246-1900
Fax
(775) 246-1986
Address
20 Stokes Dr
Mound House, NV 89706
Project Name
Storm Damage Repair to E. Branch Rd., Oakcrest Dr., and Mosswood Ln.
Bid/Contract #
217516, 217518, & 217341
Awarding Agency
County of Humboldt Public Works Department
Project Location
Eureka, Humboldt County, CA
Bid Date
06/30/2020 at 02:00
Project Details
MKD Construction is actively seeking quotes for the following Subcontractors and Material Suppliers:
Trucking; Traffic Control; K-Rail Rental; Storm Water QSP, Inspections, Sampling, & Annual Report; Prepare REAPS; Erosion Control; Dust Palliative Supply and/or Place; Aggregate Supply; Hot Mix Asphalt Supply and/or Place; Pipe, Fabric, & Geo-Synthetic Reinforcement Supply.

Plans and specifications can be viewed and downloaded in PDF format form the County of Humboldt, CA (www.humboldtgov.org/bids.aspx).; or contact MKD Construction at (775) 246-1900 or email Dee Westmoreland (deew.mkd2@att.net).
MKD Construction is happy to assist interested DBEs in obtaining bonding, lines of credit or insurance, and any technical assistance of information related to or obtaining plans, specifications and requirements for the work which is provided to DBEs. MKD Construction will also assist interested DBEs in obtaining necessary equipment, supplies, materials or related assistance or services, excluding supplies and equipment the DBE subcontractor purchases or leases from us. We are a union contractor and equal opportunity employer.
How to get in touch
Outreach Coordinator
MICHAEL GROCK
Project Estimator
Dee Westmoreland
Telephone
(775) 246-1900
Fax
(775) 246-1986
Address
20 Stokes Dr
Mound House, NV 89706