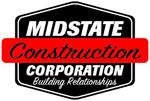 Is seeking qualified MBEs, WBEs
Outreach Coordinator
America Quiroz
Telephone
(707) 762-3200
Fax
(707) 762-0700
Address
1180 Holm Road
Petaluma, CA 94954
Project Name
Twin Rivers Block A
Bid/Contract #
20043
Awarding Agency
McCormack Baron Salazar
Project Location
Sacramento, Sacramento County, CA
Bid Date
07/09/2020 at 02:00
Project Details
This is a Prevailing Wage Project HUD and SHRA are involved so both Davis-Bacon and California State Prevailing Wages (whichever is the higher of the two) are required.

Section 3 and MBE/WBE requirements Please list any qualifying certifications on your bid. Section 3 would be for local employment opportunities for lower income Sacramento residents.

Scope of Work:
8 new mixed- income apartment buildings (ranging from two to four stories), including on-site parking and site improvements. 104 total dwelling units. Swimming pool shall be a separate permit application/ plan review.

The buildings are a mix of apartments and townhouse-style units. Trades invited to bid include the following:
Earthwork, Utilities, Paving, Erosion Control, Landscaping, Concrete Podium @ Bldg E, Structural & Site Concrete, Gypsum Underlayment, CMU Masonry, Metal Fabrications, Awnings, Aluminum Sunshades, Rough Carpentry, Fiber Cement Siding & Trim, Interior Finish Carpentry, Casework & Countertops, Waterproofing, Insulation, Metal Wall Panels, Batten Seam Roofing, PVC Membrane Roofing, Metal Roof, Joint Sealants, HM Doors & Frames, Wood Doors, Glazed Window Walls, Storefront, Vinyl Windows & Doors, Frameless Mirrors, Operable Partitions, Overhead Doors, Drywall, Stucco, Tile, Acoustic Ceilings, Flooring, Wall Coverings, FRP, Paint, Signage, Wall Protection, Toilet Compartments & Accessories, Tub & Shower Enclosures, Postal Specialties, Fire Extinguishers & Cabinets, Residential Appliances, Elevator, Swimming Pool, Bike Racks, Window Treatments, Plumbing, Fire Sprinklers, HVAC & Sheet Metal, and Electrical.
We are an equal opportunity employer. The plans and specs are available for your review at our office and online at: https://securecc.smartinsight.co/#/PublicBidProject/511860. Bonds will not be required from qualified subcontractors. Bids may be faxed or emailed in PDF format to: bidroom@midstateconstruction.com.
How to get in touch
Outreach Coordinator
America Quiroz
Telephone
(707) 762-3200
Fax
(707) 762-0700
Address
1180 Holm Road
Petaluma, CA 94954