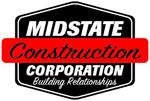 Is seeking qualified DBEs, MBEs, WBEs, DVBEs
Outreach Coordinator
America Quiroz
Telephone
(707) 762-3200
Fax
(707) 762-0700
Address
1180 Holm Road
Petaluma, CA 94954
Project Name
Fire Sprinkler System and Fire Alarm System for Valle Verde
Bid/Contract #
20037
Awarding Agency
Burbank Housing Development
Project Location
Napa, Napa County, CA
Bid Date
07/02/2020 at 02:00
Project Details
Project is subject to State and Federal David Bacon prevailing wages, Section 3 Local Hired Required.
DVBE/DBE/WBE/MBE Contractors are encouraged to participate.

Scope Of Work:
Valle Verde is new construction of a publicly funded multifamily project with as 24 units of new affordable family housing.
We are an equal opportunity employer. The plans and specs are available for your review at our office and online at: https://securecc.smartinsight.co/#/PublicBidProject/519228. Bonds will not be required from qualified subcontractors. Bids may be faxed or emailed in PDF format to: bidroom@midstateconstruction.com.
How to get in touch
Outreach Coordinator
America Quiroz
Telephone
(707) 762-3200
Fax
(707) 762-0700
Address
1180 Holm Road
Petaluma, CA 94954