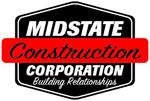 Is seeking qualified DVBEs
Outreach Coordinator
America Quiroz
Project Estimator
Vince Medrano
Telephone
(707) 762-3200 Ext. 2324
Fax
(707) 762-0700
Address
1180 Holm Road
Petaluma, CA 94954
Project Name
New Community School
Bid/Contract #
20051
Awarding Agency
Sacramento County Office of Education
Project Location
Sacramento, Sacramento County, CA
Bid Date
06/09/2020 at 02:00
Project Details
Scope of Work:

Construction of a new community school.
Four buildings, Approximately 12,000 Square feet, Wood frame construction on concrete slab.
Project is Subject to State Prevailing Wage.

All trades requested, including but not limited to: earthwork, utilities, concrete, structural steel, rough carpentry, MEP, landscaping, drywall, composite metal panels, cement plaster, metal roofing, doors, windows, flooring, acoustical ceiling, painting, and food service equipment.


We are an equal opportunity employer. The plans and specs are available for your review at our office and online at: https://securecc.smartinsight.co/#/PublicBidProject/518375 . Bonds will not be required from qualified subcontractors. Bids may be faxed or emailed in PDF format to: bidroom@midstateconstruction.com.
How to get in touch
Outreach Coordinator
America Quiroz
Project Estimator
Vince Medrano
Telephone
(707) 762-3200 Ext. 2324
Fax
(707) 762-0700
Address
1180 Holm Road
Petaluma, CA 94954