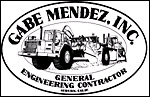 Is seeking qualified DBEs
Outreach Coordinator
Gabriel Mendez
Telephone
(916) 663-3372
Fax
(916) 663-1478
Address
9390 Ridge Rd.
Newcastle, CA 95658
Project Name
CONSTRUCTION ON STATE HIGHWAY IN EL DORADO COUNTY NEAR PLACERVILLE AT 0.3 MILE NORTH OF ROUTE 49
Bid/Contract #
03-3H9804
Awarding Agency
State of California Department of Transportation
Project Location
Placerville, El Dorado County, CA
Bid Date
01/23/2020 at 02:00
Project Details
Gabe Mendez, Inc. is seeking bids for the following bid items; Lead Compliance Plan, Construction Area Signs, Traffic Control System, Portable Changeable Message Sign, Job Site Management, Water Pollution Control Plan, Temp. Gravel Bag Berm, Street Sweeping, Dry Seed, Rolled Erosion Control Product, Fiber Rolls, Straw, Compost, Class 2 Aggregate Base Rock, Hot Mix Asphalt, 12" Corrugated Steel Pipe, 18" Corrugated Steel Pipe, 12" Perforated Steel Pipe Under drain, Slurry Cement Backfill, Rock Slope Protection, RSP Fabric, Underdrain Marker, Culvert Markers, & Surveying.
We are signatory to the Operating Engineer's and Laborer's Unions. We are an equal opportunity employer. The plans and specs are available for your review at our office located at 9390 Ridge Road in Newcastle, CA. 95658. The plans can also be obtained by visiting the link to the following website.

http://ppmoe.dot.ca.gov/des/oe/weekly-ads/all-adv-projects.php

Gabe Mendez, Inc, will pay bond premiums up to 1.5%. Gabe Mendez, Inc. will also assist DBE firms in obtaining information related to this job including but not limited to bonding, lines of credit, insurance, equipment, materials, supplies and so forth.

How to get in touch
Outreach Coordinator
Gabriel Mendez
Telephone
(916) 663-3372
Fax
(916) 663-1478
Address
9390 Ridge Rd.
Newcastle, CA 95658