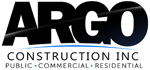 Is seeking qualified DBEs, MBEs, WBEs, SBEs
Outreach Coordinator
Arkadiy Goltser
Telephone
(415) 850-0857
Fax
(415) 358-8460
Address
1227 39th Ave
San Francisco, CA 94122
Project Name
General Office - Customer Service Center Renovation Project
Bid/Contract #
Contract #2019-1454 /Project ID#2071
Awarding Agency
Alameda Contra Costa Transit District (AC Transit)
Project Location
Oakland , Alameda County, CA
Bid Date
01/23/2020 at 1:00
Project Details
ALL Proposal are DUE at 12 pm. Email at office@argoemail.com or fax 415.358.8460

Seeking "ALL TRADES" from subcontractors & suppliers, including LBE, DBE, SBE, MBE, WBE, firms. DBE-SBE 3%,
Public Works- Prevailing Wage, Not a PLA.

SCOPE OF WORK:
The work consists, in general, of providing and furnishing all materials, labor, tools, supplies, equipment, transportation, and superintendence as required to renovate the GO-Customer Service Center Renovation at the GO-General Office located at 1600 Franklin Street, Oakland, California 94612. Works shall include those items described in the plans and technical specification included as a part of this contract, The improved facility design will include ergonomic improvements throughout, including counters and ADA accessible workstations.


Please download bid documents by link http://www.actransit.org/acpronet/ifb-2019-1454-general-office-customer-service-center-renovation/

P.S. Please pay attention to the plans because of all scale is not correct. You need to adjust scale to architectural dimensions.

We are an equal opportunity employer. Bonds will be required from qualified subcontractors with contract amount more than $500,000.00.
How to get in touch
Outreach Coordinator
Arkadiy Goltser
Telephone
(415) 850-0857
Fax
(415) 358-8460
Address
1227 39th Ave
San Francisco, CA 94122