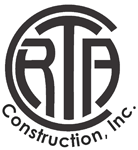 Is seeking qualified DBEs
Outreach Coordinator
Darren Trawick
Project Estimator
Darren Trawick
Telephone
(530) 223-1100
Fax
(530) 223-6320
Address
9614 Tanqueray Court
Redding, CA 96003
Project Name
Mt Shasta State-Mandated Wastewater Treatment and Disposal Improvement Project
Bid/Contract #
Job No. 111.84
Awarding Agency
City of Mt Shasta
Project Location
Mt Shasta , Siskiyou County, CA
Bid Date
09/10/2019 at 2:00
Project Details
City of Mt Shasta State-Mandated Wastewater Treatment and Disposal Improvement Project

RTA Construction, Inc is soliciting quotes from all interested Disadvantaged Business Enterprises (DBE) to participate with us in the following project: Separate sealed Bids for the construction of the State-Mandated Wastewater Treatment and Disposal Improvement Project will be received by the City of Mt. Shasta at the office of the City Clerk at City Hall, 305 N. Mt. Shasta Blvd., Mt. Shasta, CA 96067 until 2:00 p.m. local time on September 10, 2019, at which time the Bids will be publicly opened and read. The Project consists of installation of new headworks screen; influent pipeline; Aero-Mod Activated Sludge treatment process; disk cloth filtration; closed-vessel UV disinfection; sludge dewatering facility, including building; control and blower building; filter and UV building; and return pump station. The project is located in the City of Mount Shasta, CA. We welcome participation from all trades involved in this work.

A non-mandatory, pre-bid job site visit will take place August 7, 2019, starting at 1:00 p.m. at the City of Mt. Shasta Wastewater Treatment Facility.

The construction cost range is $18,300,000 to $22,300,000.

This project is funded in part by the State Revolving Fund (SRF), and as such a labor compliance program (LCP) in accordance to California Labor Compliance Code Section 1771.8 must be adopted and enforced. Additionally, SRF requires payment of federal prevailing wages, specifically, Davis-Bacon Act wage rules apply to all assistance agreements made in whole or in part with SRF funds.

DBE subcontractors and vendors must provide current certification. All subcontractors must have a current contractor's license, insurance coverage, and worker's compensation for the entire duration of the contract. All subcontractors will be required to enter a subcontractor agreement with RTA Construction, Inc.. Project plans and specifications can be viewed at CIPLIST.com. We are an equal opportunity employer, RTA Construction, Inc. will work cooperatively with all interested subcontractors and vendors. Interested subcontractors and vendors are encouraged to contact us at RTA Construction Inc., 9614 Tanqueray Court, Redding, CA 96003, Phone: 530-223-1100, Fax 530-223-6320.

We are an equal opportunity employer. The plans and specs are available for your review at our office. Bonds will not be required from qualified subcontractors.
How to get in touch
Outreach Coordinator
Darren Trawick
Project Estimator
Darren Trawick
Telephone
(530) 223-1100
Fax
(530) 223-6320
Address
9614 Tanqueray Court
Redding, CA 96003