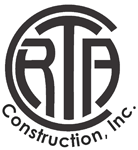 Is seeking qualified DBEs
Outreach Coordinator
Darren Trawick
Project Estimator
Darren Trawick
Telephone
(530) 223-1100
Fax
(530) 223-6320
Address
9614 Tanqueray Court
Redding, CA 96003
Project Name
Cottonwood Wastewater Treatment Plant Improvement Project
Bid/Contract #
Contract No. 610498
Awarding Agency
Shasta County Department of Public Works
Project Location
Cottonwood , Shasta County, CA
Bid Date
08/15/2019 at 3:00
Project Details
RTA Construction, Inc is soliciting Disadvantaged Business Enterprises to participate with us in the following project: Separate sealed Bids for the construction of the Shasta County Department of Public Works County Service Area No. 17 Cottonwood Wastewater Treatment Plant Improvement Project will be received by the County of Shasta, at the Clerk of the Board's Office, 1450 Court Street, Suite 308B, Redding, CA 96001 until 3:00 p.m. local time on August 15, 2019, at which time the Bids will be publicly opened and read aloud. The Project consists of constructing an anoxic biological selector, a mixed liquor recycle pump station, a traveling bridge sand filter, all new electrical and controls, complete, and replacement of miscellaneous mechanical equipment including, but not limited to, pumps and aerators. Bids will be received for a single prime contract. Bids shall be on a lump-sum basis. All Bids shall be evaluated on the basis of the Base Bid amount.

A non-mandatory pre-bid meeting will be held on July 11, 2019, starting at 10:00 a.m. at the
Cottonwood Wastewater Treatment Plant, 3425 Live Oak Road, Cottonwood, CA 96022.

Engineer's Construction Cost Estimate is $4,000,000 to $5,000,000.

This project is funded in part by the State Revolving Fund (SRF), and as such a labor compliance program (LCP) in accordance to California Labor Compliance Code Section 1771.8 must be adopted and enforced. Additionally, SRF requires payment of federal prevailing wages, specifically, Davis-Bacon Act wage rules apply to all assistance agreements made in whole or in part with SRF funds.

DBE subcontractors and vendors must provide current certification. All subcontractors must have a current contractor's license, insurance coverage, and worker's compensation for the entire duration of the contract. All subcontractors will be required to enter a subcontractor agreement with RTA Construction, Inc.. Project plans and specifications can be viewed at CIPLIST.com. RTA Construction, Inc. anticipates trades needed on this project to include electrical, mechanical, painting, concrete, reinforcing steel and excavation. We are an equal opportunity employer, RTA Construction, Inc. will work cooperatively with all interested subcontractors and vendors. Interested subcontractors and vendors are encouraged to contact us at RTA Construction Inc., 9614 Tanqueray Court, Redding, CA 96003, Phone: 530-223-1100, Fax 530-223-6320.

We are an equal opportunity employer. The plans and specs are available for your review on CIPLIST.com. Bonds will not be required from qualified subcontractors.
How to get in touch
Outreach Coordinator
Darren Trawick
Project Estimator
Darren Trawick
Telephone
(530) 223-1100
Fax
(530) 223-6320
Address
9614 Tanqueray Court
Redding, CA 96003