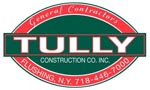 Is seeking qualified DBEs
Outreach Coordinator
Tara Gallicchio
Telephone
(718) 446-7000 Ext. 293
Fax
(718) 446-6072
Address
127-50 Northern Blvd
Flushing, NY 11368
Project Name
JFK International Airport - Taxiways CA and CB Enhancement
Bid/Contract #
JFK-184.043
Awarding Agency
PANYNJ
Project Location
Jamaica, Queens County, NY
Bid Date
05/23/2019 at 02:00
Project Details
Tully Construction Co. Inc/Intercounty Paving Assoc, JV is the low bidder on PANYNJ Contract JFK-184.043 JFK International Airport - Taxiways CA and CB Enhancement

We are seeking quotes from DBE's qualified to do AIRSIDE work for
pavement marking and runway electric.


We are an equal opportunity employer. The plans and specs
are available for your review upon request.
How to get in touch
Outreach Coordinator
Tara Gallicchio
Telephone
(718) 446-7000 Ext. 293
Fax
(718) 446-6072
Address
127-50 Northern Blvd
Flushing, NY 11368