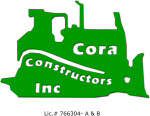 Is seeking qualified DBEs
Outreach Coordinator
Lynne Cazeault
Project Estimator
Dennis Stockton
Telephone
(760) 674-1536
Fax
(760) 674-3202
Address
75140 St Charles Place #A Suite A
Palm Desert, CA 92211
Project Name
Wastewater Reclamation Project - Phase 1 Collection System
Bid/Contract #
B3
Awarding Agency
Hi-Desert Water District
Project Location
Yucca Valley, San Bernardino County, CA
Bid Date
02/26/2019 at 02:00
Project Details
Our company is seeking DBE Contractors (State-certified disadvantaged business enterprises).

The project consists of labor and materials for constructing Kickapoo Pump Station, located in Yucca Valley, CA, including pumps, manholes, odor control equipment, electrical control equipment, masonry, fencing.

This project is expected to last 210 calendar days for substantial completion and 280 calendars to be complete form the Notice to Proceed.

We are an equal opportunity employer. The plans and specs are available by email through our office please contact Susan at susanr@coraconstructors or Lynne at lynne@coraconstructors . Bonds may be required from qualified subcontractors.
How to get in touch
Outreach Coordinator
Lynne Cazeault
Project Estimator
Dennis Stockton
Telephone
(760) 674-1536
Fax
(760) 674-3202
Address
75140 St Charles Place #A Suite A
Palm Desert, CA 92211