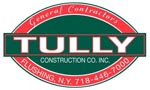 Is seeking qualified MBEs, WBE
Outreach Coordinator
Tara Gallicchio
Telephone
(718) 446-7000 Ext. 293
Fax
(718) 446-1484
Address
127-50 Northern Blvd.
Flushing, NY 11368
Project Name
4.2 Miles of Asphalt Concrete Resurfacing on Route 907M (Grand Central Pkwy).
Bid/Contract #
D262964
Awarding Agency
NYSDOT
Project Location
Queens, Queens Co. County, NY
Bid Date
03/18/2016 at 2:00
Project Details
TULLY CONSTRUCTION CO., INC. is the Prime Contractor on the referenced project. We are currently seeking quotes from qualified MWBE firms for Furnish and Install Asphalt, and Milling. It would be appreciated if you send us your quote no later than Friday, March 18, 2016.


We are an equal opportunity employer. The plans and specs are available for upon.

How to get in touch
Outreach Coordinator
Tara Gallicchio
Telephone
(718) 446-7000 Ext. 293
Fax
(718) 446-1484
Address
127-50 Northern Blvd.
Flushing, NY 11368