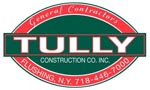 Is seeking qualified MBE, WBE
Outreach Coordinator
Brian Giraldo
Telephone
(718) 446-7000
Fax
(718) 446-6072
Address
127-50 Northern Blvd.
Flushing, NY 11368
Project Name
Sandy Restoration and Projects BB-28, Phase II/BB-54 Rehabilitation of the tunnel and plaza at the Brooklyn Battery Tunnel
Bid/Contract #
BB-28S
Awarding Agency
Triborough Bridge and Tunnel Authority
Project Location
Brooklyn, Kings County, NY
Bid Date
09/09/2014 at 03:00
Project Details
Tully Construction Co., Inc. is seeing qualified M/WBE subcontractors and suppliers for the Sandy Restoration and Projects BB-28, Phase II/BB-54 Rehabilitation of the tunnel and plaza at the Brooklyn Battery Tunnel. We are soliciting quotes for the following: Electrical; Plumbing; Mechanical; Tile
Polymer Panels; Waterproofing (Water Leak); Asbestos; Railings (Stainless Steel); Ceiling Panels; Grout & Mortar; Rebar; Doors; and Signs.
We are an equal opportunity employer. Please reply if interested and plans & specs will be available for your reference.
How to get in touch
Outreach Coordinator
Brian Giraldo
Telephone
(718) 446-7000
Fax
(718) 446-6072
Address
127-50 Northern Blvd.
Flushing, NY 11368