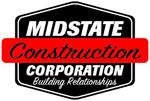 Is seeking qualified DBEs, MBEs, WBEs, Section 3
Outreach Coordinator
Carly Rodriguez
Project Estimator
Richard Harryman
Telephone
(707) 762-3200
Fax
(707) 762-0700
Address
1180 Holm Road
Petaluma, CA 94954
Project Name
Adrian Court Apartments
Bid/Contract #
21025
Awarding Agency
Burbank Housing
Project Location
Napa, Napa County, CA
Bid Date
08/10/2021 at 14:00
Project Details
Seeking bids for the renovation of 8 apartment units in Napa, CA, including but not limited to general repairs, replacement of finishes and fixtures in all units, exterior paint, site accessibility, and making one unit fully accessible. Selective Demolition, Staking, Doors Frames and Hardware, Windows, Window Treatments, Postal and Misc. Specialties, Residential Appliances, Painting, Gypsum Board, Flooring, HVAC, Plumbing, Electrical, Casework and Countertops, Signage.

This project is subject to state and federal prevailing wages, the higher of the two.

Women Owned Business Enterprise (WBEs) and Minority Owned Business Enterprises (MBEs) are encouraged to bid.


We are an equal opportunity employer. The plans and specs are available for your review at our office and online at: https://securecc.smartinsight.co/#/PublicBidProject/579640

Bids may be faxed or emailed in PDF format to: bidroom@midstateconstruction.com.

For questions contact:
Richard Harryman
richardh@midstateconstruction.com
707-559-2354

How to get in touch
Outreach Coordinator
Carly Rodriguez
Project Estimator
Richard Harryman
Telephone
(707) 762-3200
Fax
(707) 762-0700
Address
1180 Holm Road
Petaluma, CA 94954