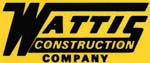 Is seeking qualified MBEs, WBEs
Outreach Coordinator
Araceli Sanchez
Project Estimator
John Davis
Telephone
(408) 293-3669
Fax
(408) 298-9152
Address
964 Stockton Avenue
San Jose, CA 95110
Project Name
Caribbean Dr Parking and Trail Access Enhancements
Bid/Contract #
UY-17-03
Awarding Agency
City of Sunnyvale
Project Location
Sunnyvale, Santa Clara County, CA
Bid Date
12/04/2019 at 03:00
Project Details
Wattis Construction Co., Inc. is seeking quotes from all qualified subcontractors and suppliers including certified MBE and WBE firms for the Caribbean Drive Parking and Trail Access Enhancements, Project No. UY-17-03.
We are soliciting quotes for the following items of work, including but not limited to:
TRUCKING, UNDERGROUND, FENCING, LANDSCAPE, CLEAR & GRUB, STRIPING, SURVEY, CONCRETE AND TRAFFIC CONTROL. Submit quotes by 09:00 am on December 04, 2019.
We are an equal opportunity employer. Wattis Construction Co., Inc. is signatory to Laborers, Operators, teamsters and the Cement Masons Unions. Any non-signatory subcontractor will be required to sign an agreement for the trades covered under our agreements. Contractors must possess a current contractor's license, insurance and workers compensation coverage meeting Wattis's requirements and will be required to sign the standard Wattis Subcontract Agreement. A copy of the insurance requirements and agreement can be obtained by contacting the estimator. The plans and specifications are available for viewing at our office.
How to get in touch
Outreach Coordinator
Araceli Sanchez
Project Estimator
John Davis
Telephone
(408) 293-3669
Fax
(408) 298-9152
Address
964 Stockton Avenue
San Jose, CA 95110