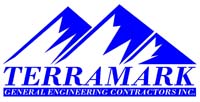 Is seeking qualified DBEs, MBEs, WBEs, DVBEs, SBEs, LBEs
Outreach Coordinator
RAV DHALIWAL
Project Estimator
Rav Dhaliwal
Telephone
(408) 220-9916
Fax
(408) 220-9916
Address
PO Box 22089
San Jose, CA 95151
Project Name
Sequoia Way Culvert and Roadway Repair
Bid/Contract #
0672-6U2340
Awarding Agency
Contra Costa County Public Works Department
Project Location
Martinez, Contra Costa County, CA
Bid Date
07/23/2019 at 2:00
Project Details
Surveying and Staking
Water Pollution Control
SWPPP Erosion Control Plans Installation and Monitoring
Temporary Fencing
Construction Materials Suppliers
Trucking
Tree Removal
Landscaping and Planting
Split Fence Railing




The work to be done generally consists of replacing a thirty-six inch culvert outfall and re-establishing and stabilizing the embankment using Rock Slope Protection. Work will also include temporary water diversion/dewatering, removal of existing pipe and winterization efforts, installing a storm drain inlet, planting and seeding the embankment.

Engineer's Estimate is $161,000.00 and Construction Schedule is 25 Working Days.

Plans and Specifications are available upon request.
Please send an email to bids@terramark-contractors.com.

Please contact Rav Dhaliwal at (408) 220-9916 Ext. 1 or email ravd@terramark-contractors.com regarding any project related questions.
How to get in touch
Outreach Coordinator
RAV DHALIWAL
Project Estimator
Rav Dhaliwal
Telephone
(408) 220-9916
Fax
(408) 220-9916
Address
PO Box 22089
San Jose, CA 95151