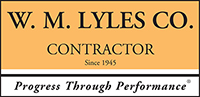 Is seeking qualified DBEs, MBEs, WBEs, DVBEs, SBEs
Outreach Coordinator
Michael Wise
Telephone
(661) 387-1600
Fax
(661) 387-1620
Address
2810 Unicorn Road
Bakersfield, CA 93308
Project Name
NORTHEAST SURFACE WATER TREATMENT FACILITY 4.5 MG STORAGE TANK AND IMPROVEMENTS PROJECT
Bid/Contract #
3626-2
Awarding Agency
City of Fresno
Project Location
City of Fresno , Fresno County County, CA
Bid Date
07/23/2019 at 15:00
Project Details
W. M. Lyles Co. is actively seeking certified Disadvantage Business Enterprises (DBE) firms for the NORTHEAST SURFACE WATER TREATMENT FACILITY 4.5 MG STORAGE TANK AND IMPROVEMENTS PROJECT for the CIty of Fresno. For example: (SBE), (MBE), (WBE) (HUB) Etc.

Scope of work include:
Electrical, Rebar, Fencing & Gates, Paving, Painting, Roofing, HVAC, Plumbing, Landscaping, Welded Steel Pipe
Pipe & Fitting, Misc. Metal, Aggregates, RCP & Precast, SWPPP, Surveying, Trucking, Temp. Toilets, Etc.





W. M. Lyles Co. actively works with Subcontractor and Suppliers to ensure their ability to provide a quote on all projects. We want to make clear that we will: 1.Accept bids on any and all portions of work. 2. Receive pricing for a breakdown of items as well as full items of work. For example Painting, could be covered in totality or broken into smaller items such as Above Grade Pipe Coating, Below Grade Pipe coating, Building Coatings, Etc. 3. Make efforts to establish delivery schedules, where the requirement permits, which encourages your participation. 4. Encourage your contracting with a consortium of DBEs when a contract is too large for your firm to handle individually.

How to get in touch
Outreach Coordinator
Michael Wise
Telephone
(661) 387-1600
Fax
(661) 387-1620
Address
2810 Unicorn Road
Bakersfield, CA 93308