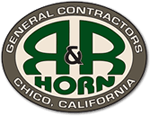 Is seeking qualified DBEs, MBEs, WBEs, DVBEs, SBEs
Outreach Coordinator
Jared Springer
Project Estimator
Jared Springer
Telephone
(530) 864-1250
Fax
(530) 892-1324
Address
13504 Skypark Industrial Ave.
Chico, CA 95973
Project Name
NITRATE AREA 3S PHASE 6, UNIT 5 HAMPSHIRE VICTORIA PARK
Bid/Contract #
MAJC/50139-300-4150
Awarding Agency
City of Chico
Project Location
Chico, Butte County, CA
Bid Date
05/16/2019 at 04:00
Project Details
We are seeking quotes for the following: Construction Staking, Traffic Control, Tree Maintenance, SWPPP, and Pipe Suppliers.
The Scope of work for the project involves, Demolition of Concrete and Paving, Trenching, Installation of a Gravity Sewer System Mains, Installation of Laterals to property lines, and Trench Replacement (Driveways, Sidewalks, Curbs, & Gutter.
We are an equal opportunity employer. The plans and specs are available for your review at our office. We will work with interested subcontractors to identify opportunities to break down items into economically feasible packages. Please call to discuss how we can assist you in your bonding, credit and/or insurance needs. Assistance may include, but is not limited to: Contacting bonding and/or insurance companies on your behalf, arranging with sureties incremental or phased bonding, obtaining necessary equipment, supplies and/or materials. Please fax quotes no later than close of business the day before bids are due. If you have any questions, please contact the project estimator.
How to get in touch
Outreach Coordinator
Jared Springer
Project Estimator
Jared Springer
Telephone
(530) 864-1250
Fax
(530) 892-1324
Address
13504 Skypark Industrial Ave.
Chico, CA 95973