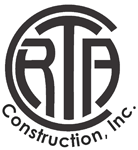 Is seeking qualified DBEs
Outreach Coordinator
Darren Trawick
Telephone
(530) 223-1100
Fax
(530) 223-6320
Address
9614 Tanqueray Court
Redding, CA 96003
Project Name
City of Weed Sewer Replacement Project
Bid/Contract #
CWSRF Project No. C06-8159-210
Awarding Agency
City of Weed
Project Location
Weed, Siskiyou County, CA
Bid Date
04/16/2019 at 02:00
Project Details
RTA Construction, Inc. is seeking certified DBE subcontractors and vendors to provide services and materials for the following project: City of Weed Sewer Replacement Project. The Project consists of installing sewer mains approximately 90 LF of 21-inch, 100 LF of 20-inch, 2,650 LF of 15-inch, 1,900 LF of 10-inch, 3,700 LF of 8-inch, 3,200 LF of 6-inch, 2,700 LF of 4-inch, 80 LF of 36-inch bore and jack, 140 LF of 24-inch casing, 130 LF of 20-inch bore and jack, 230 LF of 10-inch pipe bursting, 5,000 LF of CCTV, 1,400 LF of 6-inch to 12-inch lining, 50 new manholes, 100 cleanouts, 5 rod holes, 600 LF of 2-inch force main, 1 lift station, surface restoration, and all connections to the existing sewer system. Bids for the construction of the Sewer Replacement Project will be received by City of Weed at the office of the City Clerk at City Hall, 550 Main Street, Weed, CA 96094 until 2:00 p.m. local time on April 16, 2019 at which time the Bids will be publicly opened and read. Engineer's Construction Cost Estimate is $4,200,000 to $4,400,000.

This project is funded in part by the State Revolving Fund (SRF), and as such a labor compliance program (LCP) in accordance to California Labor Compliance Code Section 1771.8 must be adopted and enforced. Additionally, SRF requires payment of federal prevailing wages, specifically, Davis-Bacon Act wage rules apply to all assistance agreements made in whole or in part with SRF funds.

DBE subcontractors and vendors must provide current certification. All subcontractors must have a current contractor's license, current California DIR Registration, insurance coverage, and worker's compensation for the entire duration of the contract. All subcontractors will be required to enter a subcontractor agreement with RTA Construction, Inc.. Project plans and specifications can be viewed at RTAC's office location. We are an equal opportunity employer, RTA Construction, Inc. will work cooperatively with all interested subcontractors and vendors. Interested subcontractors and vendors are encouraged to contact us at RTA Construction Inc., 9614 Tanqueray Court, Redding, CA 96003, Phone: 530-223-1100, Fax 530-223-6320.

We are an equal opportunity employer. The plans and specs are available for your review at our office. Bonds will not be required from qualified subcontractors.
How to get in touch
Outreach Coordinator
Darren Trawick
Telephone
(530) 223-1100
Fax
(530) 223-6320
Address
9614 Tanqueray Court
Redding, CA 96003