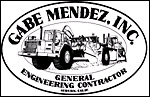 Is seeking qualified DBEs
Outreach Coordinator
Gabriel Mendez
Project Estimator
Vince Mendez
Telephone
(916) 663-3372
Fax
(916) 663-1478
Address
9390 Ridge Rd.
Newcastle, CA 95658
Project Name
Nevada Street Pedestrian and Bicycle Facilities Improvement Project - Phase II
Bid/Contract #
CIP Project No. TP-09
Awarding Agency
City of Auburn
Project Location
Auburn, Placer County, CA
Bid Date
03/19/2019 at 03:00
Project Details
Gabe Mendez, Inc. is seeking quotes for the following items.

Traffic Control System, Water Pollution Control, Construction Area Signs, Clearing , Grubbing, & Demolition, Roadway Excavation, Rock Excavation, Structural Excavation & Backfill, Class 2 Aggregate Base, Hot Mix Asphalt, Hot Mix Asphalt Dike, Cold Plane Pavement, Roadside Signage, Striping and Pavement Markers, Minor Concrete, Retaining Walls, Guardrails, Fencing, Rectangular Rapid Flashing Beacon System, Street Lighting, Signal & Lighting,, Storm Drain Pipe & Precast Installation, Waterline Installation, Landscaping, & Trucking.

Please contact Gabe Mendez, Inc. if DBE needs assistance in breaking down bid items to more manageable quantities.
The plans and specs are available for your review at our office.

They are also available for review online at www.ciplist.com/plan/?Auburn/city/11646/plan/2912.

There is a non mandatory pre job meeting on March 5, 2019 at the City of Auburn located at 1225 High Street. Auburn, CA. 95603.

Gabe Mendez, Inc. an equal opportunity employer. 100% Payment and Performance Bonds for subcontractors are required. Gabe Mendez, Inc, will pay bond premium up to 1.5%. Insurance Waiver of subrogation also required. However, certified DBE's are encouraged to contact Gabe Mendez, Inc.and request assistance if they are unable to meet Gabe Mendez, Inc.'s standard bonding or insurance requirements. DBE's also are encouraged to contact Gabe Mendez, Inc.for assistance in obtaining lines of credit, equipment, supplies, materials or related assistance or services.

Subcontractor, Supplier and Trucker quotes must be valid, at minimum, for the award period stated in the contract documents. Please note that this is a prevailing wage project and Gabe Mendez, Inc. is Union signatory. Subcontractors will be subject to the terms and conditions of Gabe Mendez, Inc.'s subcontract and safety documents available for review in our office or by email. Submission of a bid to Gabe Mendez, Inc. will confirm that you have reviewed and accepted Gabe Mendez, Inc.'s subcontract form. Conditions or exceptions in Subcontractors quote are expressly rejected unless accepted in writing prior to bid. Subcontractor scopes and supplier quotes are required 24 hours prior to bid. Additional information and or assistance to DBE's are available from: the project estimator.

How to get in touch
Outreach Coordinator
Gabriel Mendez
Project Estimator
Vince Mendez
Telephone
(916) 663-3372
Fax
(916) 663-1478
Address
9390 Ridge Rd.
Newcastle, CA 95658