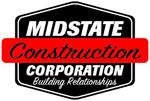 Is seeking qualified MBEs, WBEs, Section 3 Local Hire
Outreach Coordinator
Shannon Murray
Project Estimator
Ben Honsvick
Telephone
(707) 762-3200 Ext. x2320
Fax
(707) 762-0700
Address
1180 Holm Road
Petaluma, CA 94954
Project Name
Shasta Hotel
Bid/Contract #
19006
Awarding Agency
Shasta Hotel Investors Partnership, L.P.
Project Location
Sacramento, Sacramento County, CA
Bid Date
01/22/2019 at 02:00
Project Details
Please review and revise, as needed, your proposal for the Shasta Hotel project Based upon Federal Davis-Bacon COMMERCIAL Prevailing Wage Rates.

Please submit by Tuesday, January 22nd at 2PM.

This project bid last year and didn't receive it's financing. The project now has financing approved and is ready to start February 2019.

MBE / WBE AND SECTION 3 FIRST SOURCE HIRING SUBCONTRACTORS AND SUPPLIERS ARE ENCOURAGED TO PARTICIPATE.

BASE SCOPE OF WORK INCLUDES (BUT MAY NOT BE LIMITED TO):

Modernization of existing passenger elevator, new elevator installation (basement to 1st floor), interior alterations, electrical upgrades including wiring, receptacles, upgraded light fixtures, window replacement throughout the building, flooring replacement, cabinet, sink and appliance replacement, replacement of existing single-ply roofing, replacement of existing mechanical equipment and associated piping, replacement of existing plumbing equipment and associated piping, fire sprinkler system upgrade, and fire alarm system upgrade. Work also includes livingwall and waterproofing, new common bathrooms and showers at each floor, new common kitchens, new lobby upgrades, trash chutes and lifts, etc.

All trades requested.

As of January 18, 2019, Addendum Nos. 1 - 9 have been issued.

Please contact Shannon Murray or Ben Honsvick with any questions.
Email: ShannonM@midstateconstruction.com, benh@midstateconstruction.com
707-762-3200
We are an equal opportunity employer. The plans and specs are available for your review at our office and online at: https://secure.smartinsight.co/#/PublicBidProject/418809.
Bonds will not be required from qualified subcontractors. Bids may be faxed or emailed in PDF format to: bidroom@midstateconstruction.com.
How to get in touch
Outreach Coordinator
Shannon Murray
Project Estimator
Ben Honsvick
Telephone
(707) 762-3200 Ext. x2320
Fax
(707) 762-0700
Address
1180 Holm Road
Petaluma, CA 94954