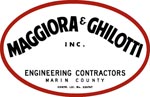 Is seeking qualified DBEs
Outreach Coordinator
Kevin Bechtel
Telephone
(415) 459-8640
Fax
(415) 459-2065
Address
555 Du Bois Street
San Rafael, CA 94901
Project Name
Vineyard Road Improvement Project
Bid/Contract #
CIP Project No. 15-017; Federal Aid # STPL-5361 (027)
Awarding Agency
City of Novato
Project Location
Novato, Marin County, CA
Bid Date
10/23/2018 at 02:00
Project Details
For the following, but not limited to, items of work:
Supply Concrete; Erosion Control Materials; Storm Drain Pipe; Precast Materials; Aggregates; and Asphalt Concrete.
Subcontractor for Traffic Control; Landscaping; Minor Concrete curb, gutter, sidewalk, driveways and curb ramps; Cold-in-Place Recycling (4" Foamed Asphalt); Sand Cover; AC Edge Grind and Profile Planning; and Traffic Signs and Striping.
Provide WPCP and QSP Services; and Trucking of Materials.

Plans, specifications, and other project are available for download at the City of Novato website http://www.novato.org; or at our office in San Rafael; and at local Building Exchanges.
Maggiora & Ghilotti is an equal opportunity employer and will consider all bids and is willing to break down items, as reasonably possible, into economically feasible units to facilitate DBE participation.
This project is subject to the "Buy America" provisions of the Surface Transportation Assistance Act of 1982 as amended by the Intermodal Surface Transportation Efficiency Act of 1991.
Maggiora & Ghilotti, Inc. is a union signatory company. Performance and payment bonds may be required. Maggiora & Ghilotti will pay for bond premium up to 1.5%. Subcontractors must be registered with DIR and have a current contractor's license, insurance and worker's compensation coverage meeting project requirements. Contact us if you are interested in bidding on this work, or with any questions regarding project requirements, scope of work, or if you need assistance in obtaining bonds, line of credit, and/or insurance for this project.
Contact: Kevin Bechtel @ 415-459-8640 or email kevin@maggiora-ghilotti.com
We are an equal opportunity employer. The plans and specs are available for your review at our office. Bonds will not be required from qualified subcontractors.
How to get in touch
Outreach Coordinator
Kevin Bechtel
Telephone
(415) 459-8640
Fax
(415) 459-2065
Address
555 Du Bois Street
San Rafael, CA 94901