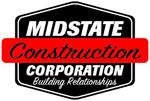 Is seeking qualified MBEs, WBEs, Section 3 Local Hire
Outreach Coordinator
Shannon Murray
Project Estimator
Bob Alton
Telephone
(707) 762-3200 Ext. 2320
Fax
(707) 762-0700
Address
1180 Holm Road
Petaluma, CA 94954
Project Name
Market Heights Apartments
Bid/Contract #
18043
Awarding Agency
Bernal Heights Neighborhood Center
Project Location
San Francisco, San Francisco County, CA
Bid Date
07/11/2018 at 15:00
Project Details
REQUEST FOR BIDS - MARKET HEIGHTS APARTMENTS REPAIRS

Project is subject to Federal Davis-Bacon Prevailing Wages and MBE/WBE/Section 3 requirements.

MBE/WBE/Section 3 Subs & Suppliers are encouraged to bid.

Included but not limited to the following trades: earthwork, concrete, rough carpentry, steel, mechanical, electrical, plumbing, HVAC, landscaping and drywall.

Scope of work includes:

Selected replacement of unit interior finishes and items per unit interior replacement schedule.

Paint all previously painted exterior building surfaces.

New roof for all buildings including removal of existing solar panels and re-installation after re-roofing.

Replacement of various existing site lighting.

Replacement of existing water heaters - see water replacement schedule for details.

Renovation of existing leasing office and laundry room.

New community room, kitchen, and accessible restroom.

New play structure and ground finish at existing play area.

New property monument sign.

Removal of existing mailboxes and installation of new USPS approved mailboxes.

Landscape per conceptual landscape plans.

Installation of new PV solar panel.



Various other site improvements such as:

- Add additional metal handrail at existing exterior stairways.

- Removal of existing chain link or metal fence for installation of new decorative metal fencing.

- Replacement of existing concrete paving and walkway by play area.

- Removal of existing concrete steps and installation of code compliance stairs by play area.

- Install new reinforced gravity block wall at existing landscape area by unit 1000n.


Email bids to: boba@midstateconstruction.com or bidroom@midstateconstruction.com.

Please contact Bob Alton, Project Estimator, with any questions. Direct: 707-559-2319

As of 6/22/18 Addendums 1 & 2 have been issued.


We are an equal opportunity employer. The plans and specs are available for your review at our office and online at: https://secure.smartbidnet.com/External/PublicPlanRoom.aspx?Id=377102. Bonds will not be required from qualified subcontractors. Bids may be faxed or emailed in PDF format to: bidroom@midstateconstruction.com.
How to get in touch
Outreach Coordinator
Shannon Murray
Project Estimator
Bob Alton
Telephone
(707) 762-3200 Ext. 2320
Fax
(707) 762-0700
Address
1180 Holm Road
Petaluma, CA 94954