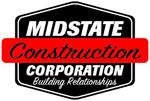 Is seeking qualified DBEs, MBEs, WBEs, DVBEs, SBEs
Outreach Coordinator
Shannon Murray
Project Estimator
Ben Honsvick
Telephone
(707) 762-3200 Ext. x2320
Fax
(707) 762-0700
Address
1180 Holm Road
Petaluma, CA 94954
Project Name
River Charter School Modernization + New Construction
Bid/Contract #
18036
Awarding Agency
Napa Valley Unified School District
Project Location
Napa, Napa County, CA
Bid Date
06/05/2018 at 14:00
Project Details
Modernization and New Construction of River Charter School in Napa.

Work includes modernization (Bldgs C, D, E) and new construction (Bldgs B, H, J). Work also includes all associated site work including but not limited to demolition, abatement, grading, paving, utilities, site furnishings include track, field and associated play equipment, striping, signage, etc. All trades are requested. This project is subject to prevailing wage requirements and certified payroll.

Subcontractors performing work that requires a C-4, C-7, C-10, C-20, C-34, C-36, C-38, C42, or C-46 license must be pre-qualified with the Owner in order to bid this project. Bidders must submit the prequalification application to the Owner no later than May 9, 2018. Bidders may obtain the prequalification application from the Owner. Physical location: NVUSD Office of School Planning & Construction; 1616 Lincoln Avenue, Napa, CA 94558; 707-253-6281, spc@nvusd.org or Online: http://www.nvusd.org/spc.

This project is subject to DVBE requirements.

MBE, WBE, and DBE subcontractors and suppliers are encouraged to bid on this project.

Included but not limited to the following trades: earthwork, concrete, landscaping, rough carpentry, steel, plaster, mechanical, electrical, and drywall.

Building Scope includes but is not limited to the following:

Building B: New library building with conference room. Automatic fire suppression system throughout.

Building C: Modernization of existing historic performing arts building to include minor demolition work. New non-bearing wall at the existing performance main space and new lighting. AV/Telecom upgrades throughout building and exterior paint.

Buildings D & E: Modernization of existing classroom buildings to include new interior finishes, casework, plumbing/sinks, exterior paint, electrical, mechanical and lighting upgrades. Automatic fire suppression system throughout.

Building H: New multi-use building with standalone food service kitchen, and stage. Automatic fire suppression system throughout.

Building J: New gymnasium building with boys and girls locker room and toilets. Automatic fire suppression system throughout.

Please contact Ben Honsvick with any questions.
Email: benh@midstateconstruction.com / Phone: (707) 559-2336

As of 5/17/18 Bid Clarifications 01, 02, 03 & 04 have been issued.

We are an equal opportunity employer. The plans and specs are available for your review at our office and online at: https://secure.smartbidnet.com/External/PublicPlanRoom.aspx?Id=369238. Bonds will not be required from qualified subcontractors. Bids may be faxed or emailed in PDF format to: bidroom@midstateconstruction.com.


How to get in touch
Outreach Coordinator
Shannon Murray
Project Estimator
Ben Honsvick
Telephone
(707) 762-3200 Ext. x2320
Fax
(707) 762-0700
Address
1180 Holm Road
Petaluma, CA 94954