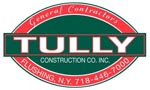 Outreach Coordinator
Tara Gallicchio
Telephone
(718) 446-7000 Ext. 293
Fax
(718) 446-1454
Address
46 College Pl
Yonkers, NY 10704
Project Name
The Owl's Head Connector Section of the Brooklyn Waterfront Greenway, 2nd Ave. Between 58th Street & Wakeman Place between Colonial Road and 2nd Ave.
Bid/Contract #
HWK1048G
Awarding Agency
NYC DDC
Project Location
Brooklyn, Kings County, NY
Bid Date
03/31/2017 at 10:30
Project Details
TULLY CONSTRUCTION CO., INC. is the apparent low bidder on the referenced project. We are currently seeking quotes from qualified DBE firms for the below listed areas of work.

* Bridge & Exterior Painting
* Landscaping
* Tree Consultant/Arborist
* Furnish and Install Fence & Guide Rail
* Furnish and Install Street Signs
* Pavement Markings
* Electrical Work
* Cleaning Catch Basins & Manholes

Please send quotes no later than Friday, March 24, 2017.

The plans and specs are available upon request.

We are an equal opportunity employer.
How to get in touch
Outreach Coordinator
Tara Gallicchio
Telephone
(718) 446-7000 Ext. 293
Fax
(718) 446-1454
Address
46 College Pl
Yonkers, NY 10704