The project has already bid. Click here to find other opportunities.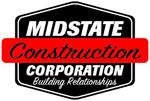 Is seeking qualified MBEs, WBEs, Section 3 Local Hire
How to get in touch
Outreach Coordinator
Shannon Murray
Project Estimator
Bob Alton
Telephone
(707) 762-3200 Ext. 2320
Fax
(707) 762-0700
Address
1180 Holm Road
Petaluma, CA 94954
Project Name
Stoddard Housing
Bid/Contract #
17034
Awarding Agency
Burbank Housing
Project Location
Napa, Napa County, CA
Bid Date
02/13/2018 at 14:00
Project Details
REQUEST FOR BIDS - ALL TRADES REQUIRED

Napa Affordable Housing Project NOT Subject to Prevailing Wages.
MBE / WBE / Section 3 Local Hire

We are requesting bids for this market rate affordable housing project in Napa by February 13, 2018. The client is Burbank Housing.

The project will consist of a new four-story residential building containing 50 affordable family apartments. The building will also include common spaces and offices. Other onsite amenities include surface parking, carports, playground, and raised planter gardening area. The landscaping plans identify various types of ground cover, trees and shrubs.

Unit mix is 15 each 1-bedroom units, 20 each 2-bedroom (5 of which are 2-story townhouse style), and
15 each 3-bedroom units.

The 2-acre site includes onsite parking for 100 cars. Building is type 5A with NFPA 13 sprinklers throughout.

The project is tentatively scheduled to break ground in spring of 2018.

Bids should be submitted to Bob Alton via email at boba@midstateconstruction.com His direct-dial phone number is 707.559.2319 if you have questions.
We are an equal opportunity employer. The plans and specs are available for your review at our office and online at: https://secure.smartbidnet.com/External/PublicPlanRoom.aspx?Id=304124
Bonds will not be required from qualified subcontractors. Bids may be faxed or emailed in PDF format to: bidroom@midstateconstruction.com.
How to get in touch
Outreach Coordinator
Shannon Murray
Project Estimator
Bob Alton
Telephone
(707) 762-3200 Ext. 2320
Fax
(707) 762-0700
Address
1180 Holm Road
Petaluma, CA 94954
Recent News