The project has already bid. Click here to find other opportunities.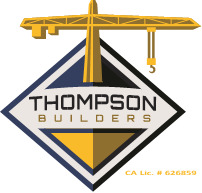 Is seeking qualified DBEs
How to get in touch
Outreach Coordinator
Sarah Maudlin
Telephone
(415) 456-8972
Fax
(415) 459-0665
Address
250 Bel Marin Keys Blvd., Bldg. A
Novato, CA 94949
Project Name
Crosswalk Enhancements Throughout Santa Rosa
Bid/Contract #
C01869
Awarding Agency
City of Santa Rosa
Project Location
Santa Rosa, Sonoma County, CA
Bid Date
10/16/2017 at 1:59
Project Details
Thompson Builders is currently seeking quotes and proposals from ALL and DBE certified subcontractors, suppliers, and truckers for the following work including but not limited to: TRAFFIC CONTROL, WATER POLLUTION CONTROL, REMOVE EXISTING STRIPING & PAVEMENT MARKINGS, INSTALL 2-INCH SIGN POLE, INSTALL STREET SIGN, RELOCATE STREET SIGN, REMOVE STREET SIGN, DETECTABLE WARNING SURFACE, 12-INCH TRENCH DRAIN, CURB AND GUTTER, 6-INCH MEDIAN CURB, 8-INCH MEDIAN CURB, SIDEWALK, ISLAND PAVING, VALLEY GUTTER, THERMOPLASTIC CHANNELIZING LINE, THERMOPLASTIC CROSSWALK. THERMOPLASTIC YIELD LINE, THERMOPLASTIC ARROW (CITY) - TYPE IV, THERMOPLASTIC WORDS, SLOW, PED, SCHOOL, XING, PAINTED "WHITE" CURB MARKING, RAISED PAVEMENT MARKER (NON-REFLECTIVE), RAISED PAVEMENT MARKER (REFLECTIVE), TYPE Q MARKER, RECTANGULAR PRAPID FLASHING BEACON (RRFB), TYPE 1-B STANDARD (12-FEET HEIGHT), PEDESTRIAN PUSH BUTTON POST, SOLAR PANEL SIDE MOUNT BRACKET, NO. 5 PULL BOX.
We are signatory to both the Carpenters Collective Bargaining Agreement and the Laborers Collective Bargaining Agreement. Certification of insurance for General Liability and Workers Compensation are required. A Waiver of Subrogation will also be required with all Subcontract Agreements. Subcontractors faithful performance and payment bonds in the amount of the subcontract price may be required. Reasonable market rate bond premium will be reimbursed by Thompson Builders Corporation. TBC is willing to discuss breaking down bid items into economically feasible units for minority participation. Our estimating department is available for assistance with bonding, lines of credit, insurance, equipment, supplies and/or materials. The Small Business Administration (www.sba.gov ), the California Dept. of General Services (www.dgs.ca.gov) and U.S. Dept. of Transportation Office of Small and Disadvantaged Business Utilization (www.osdbu.dot.gov ) may also be able to offer financial assistance and/or information regarding insurance and bonding. Plans and specs may be viewed in our office at 250 Bel Marin Keys Blvd., Bldg. A, Novato Monday through Friday from 7:30 AM to 4:30 PM or can be e-mailed upon request.

*No contractor or subcontractor may be listed on a bid proposal for a public works project (submitted on or after March 1, 2015) unless registered with the Department of Industrial Relations pursuant to Labor Code section 1725.5 [with limited exceptions from this requirement for bid purposes only under Labor Code section 1771.1(a)] *No contractor or subcontractor may be awarded a contract for public work on a public works project (awarded on or after April 1, 2015) unless registered with the Department of Industrial Relations pursuant to Labor Code section 1725.5. *This project is subject to compliance monitoring and enforcement by the Department of Industrial Relations.
How to get in touch
Outreach Coordinator
Sarah Maudlin
Telephone
(415) 456-8972
Fax
(415) 459-0665
Address
250 Bel Marin Keys Blvd., Bldg. A
Novato, CA 94949