The project has already bid. Click here to find other opportunities.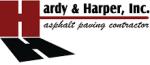 How to get in touch
Outreach Coordinator
Corey Kirschner
Telephone
(714) 444-1851
Fax
(714) 444-2801
Address
1312 E. Warner Ave.
Santa Ana, CA 92705
Project Name
Asphalt Overlay of Spring Road, Princeton Ave, Poindexter Ave & Gabbert Road
Bid/Contract #
MPK 15-03
Awarding Agency
City of Moorpark
Project Location
Moorpark, Ventura County, CA
Bid Date
07/17/2017 at 3:00
Project Details
Trucking, Manhole, Water Valve cover, Striping, Traffic Loops, Storm Water Pollution Control.
We are an equal opportunity employer. The plans and specs are available for your review at our office or we can fax you the proposal schedule. Bonds will not be required from qualified subcontractors.
How to get in touch
Outreach Coordinator
Corey Kirschner
Telephone
(714) 444-1851
Fax
(714) 444-2801
Address
1312 E. Warner Ave.
Santa Ana, CA 92705
Recent News