This contract has already bid.
You can find current opportunities
here
.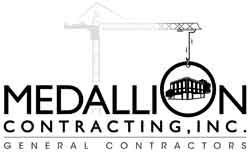 Outreach Coordinator
Craig Fries
Contact Information
41765 12th St West, Suite G
palmdale, CA 93551
Telephone
(661) 949-3205
Fax
(661) 949-3235
Medallion Contracting Inc.
is seeking qualified DVBE
Project Name
Emergency Repair Program @ Yucca Elementary School
Bid/Contract #
2704
Awarding Agency
Palmdale School District
Project Location
Palmdale, Los Angeles County, CA
Bid Date
04/06/2017 at 02:00
Project Details
We are seeking quotes for: Demo, grading, irrigation, handrail, concrete, sheet metal, painting, plumbing, & asphalt.
We are an equal opportunity employer. The plans and specs are available for your review at our office. Bonds may not be required from qualified subcontractors.