The project has already bid. Click here to find other opportunities.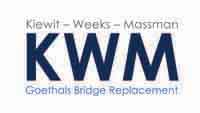 How to get in touch
Outreach Coordinator
Annie Caprari
Telephone
(908) 409-4400
Fax
(201) 604-7143
Address
137 Bayway Ave
Elizabeth, NJ 07202
Project Name
Goethals Bridge Replacement Project
Bid/Contract #
UPTBT 13026
Awarding Agency
PANYNJ
Project Location
Elizabeth & Staten Island , Union & Richmond County, NJ
Bid Date
10/17/2017 at 12:00
Project Details
• Lumber Supply
• Security & Anti-Climb Fence on New Bridge Shared Use Path
• Electrical Conduit, Wire, Enclosures, & Fittings
• Permanent Concrete Traffic Barriers
• PPC Bridge Deck Overlay
• Right of Way Security Fence
• Safety Supplies and Promotional Materials
• Landscaping/Seeding
• Pipe Supports Fabrication & Delivery
• Misc. Metals Supply

For assistance in obtaining bonds, lines of credit, and/or insurance for this project, please visit our website or contact Anne at KWMdivcontracting@kwmjv.com for more information.
How to get in touch
Outreach Coordinator
Annie Caprari
Telephone
(908) 409-4400
Fax
(201) 604-7143
Address
137 Bayway Ave
Elizabeth, NJ 07202
Recent News